Cows feel affection and they can recognize if you treat them like a family. There's even a study that shows higher milk production of cows that are called by names over the unnamed ones. If you have cows it's best to name them as it can lower their level of stress hormones.
Well, a lot of name choices will be provided in this article.
How Did the Cow Get Its Name?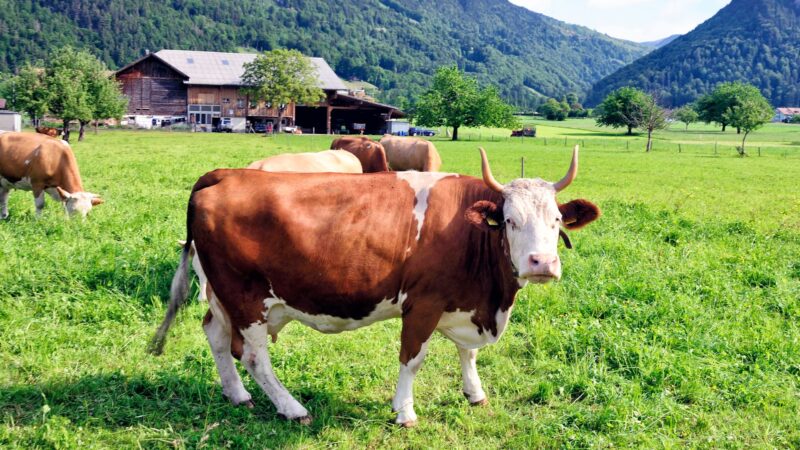 The word 'cow' is derived from the Anglo-Saxon word 'cū,' which refers to a bovine species. Cū is singular, and the plural form is cȳ. In Middle English, it became ki or kie, and the plural terms are kien, kine, kies, or kuin. In the language of Scots, it's coo or cou that becomes kye when the animal is more than one. This is how the word 'cow' was created.
Tips for Naming a Cow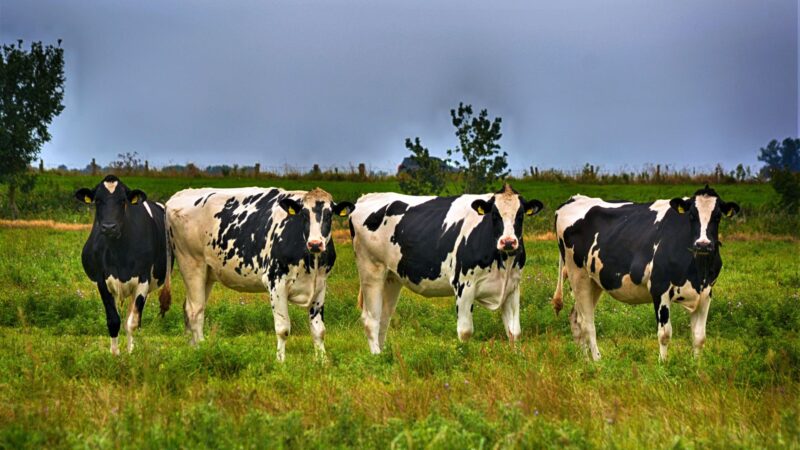 When naming your cow, you can base it on the following factors. You may prepare paper and pen to write down your selection and then decide on the best ones.
Cow's Characteristics
Naming a cow can start with the gender as cattle can be female and male or a steer and bull. The color also matters, and there's the distinction among the breeds. Angus is commonly black, while Jersey is brown. Moreover, it's black and white for Holstein.
When naming a herd of cattle, you can pick the names that rhyme or the themed ones that can create chronological order. So, you won't need to think hard about naming them.
Ideas
It seems that this factor is vast as there are a lot of things that you can get ideas from. You can just look around you, and you'll find some interesting things that you can relate to your cow's name. For example, it can be your town's name, any local wildlife, wildflowers, trees, and the list can go on.
Themes
This is especially applicable in naming several cows. You can base the names of various kinds of cheese like Mozzarella, Ricotta, Parmesan, Halloumi, and Manchego. It's appropriate as cow's milk is turned into cheese, but this is just one example. You can always be creative and think about other themes.
By the Same Letter
You may give names that start with a certain letter to the cows that are born in the same year. As an example, you can pick the names that start with the letter 'A' for newborns this year, like Anna, Annabelle, Arabella, and more. You can have a 'B' in the next year.
Best Cow Names
Rosie
Pennie
Penelope
Bessie
Buttercup
Brownie
Dottie
Clarabelle
Magic
Nellie
Guinness
Sprinkles
Sugar
Snowflake
Clay
Kratos
Romeo
Bear
Buster
Ben
Kent
Gizmo
Armor
Dale
Jack
Elsie
Craig
Sophie
Benny
Elsie
Nettie
Pearl
Balder
James
Ollie
Bobby
Jackie
Duke
Dorothy
Odin
Jackie
Ava
Esmeralda
Casey
Hydro
Rocky
Eli
Walt
Gentry
Patricia
Earl
Josie
Finn
Adele
Bella
Jeb
Carson
Jasper
Josh
Esmeralda
Justice
Kit
Sammy
Petal
Jeremy
Shellie
Shirley
Female Cow Names
Dahlia
Daisy
Samantha
Dorothy
Kim
Bella
Emma
Lisa
Margie
Minnie
Anikka
Eva
Bunny
Lexi
Luna
Jess
Tess
Penelope
Marigold
Missy
Jasmine
Anastasia
Flower
Pretty
Iris
Curly
Gerty
Jessie
Lindsay
Patty
Patricia
Anna
Betty
Kelly
Molly
Meg
Maggie
Annie
Bessie
Sally
Katie
Kate
Cathy
Kiley
Henrietta
Megan
Erika
Yvette
Cassie
Ella
Liz
Lizzie
Iris
Olivia
Bridget
Denise
Frankie
Blake
Lucy
Jolene
Viola
Yasmin
Ruby
Male Cow Names
Vinny
Nigel
Ryan
Buddy
Brock
Chewy
Teddy
Jake
Jamie
Max
Cody
Riley
Harley
Nitrous
Jasper
Judie
Ace
Sam
Lamuel
Joel
Jude
Jimbo
Gizmo
Ben
Duke
Peanut
Bobby
Jack
Armor
Bobby
Joey
Midnight
Rob Theo
Pete
Zeke
Gunn
Mike
Kobe
Kristoff
Walt
Horns
Hank
Tob
Bailey
Benji
Finn
Spike
Cooper
Angus
James
Thor
Rich
Richie
Charlie
Sampson
Earl
Odin
Coco
Baxter
Homer
Atreus
Scout
Timothy
Scott
Paulie
Rex
Arnold
Arnie
Tank
Bully
Loki
Nate
Smith
Lucky
Bull
Vin
Diesel
Kyle
Brad
Jones
Funny Cow Names
Some modifications were done to the names of artists, celebrities, and popular characters to create funny cow names.
Winnie the Moo – This is copied from the Disney bear called 'Winnie The Pooh.'
Mooly Cyrus – It's inspired by one of the popular singers: Miley Cyrus.
Moochelle Obama – This is from the name of the former first lady Michelle Obama.
Moodonna – The sensational singer Madonna can also be related to cows. It's a name that suits a cow that has a side of being a diva.
Mooster – Instead of 'meister,' 'ei' is replaced by two 'Os' since cows like to moo.
Moolan – You may have heard about Mulan from Disney. The 'moo' is emphasized to suit your cow.
You can also name your cow using the following funny names:
Cockadoodle Moo
Lovabull
Dooby Dooby Moo
Milkshake
Buttercup
Muffin
Cowabunga
Simon Cowell
Mooranda
Moona Lisa
Leonardo di Cowprio
Robert Cowney Jr.
Moohammad Ali
George Mooney
Mooella Deville
Kim Cowdashian
Megan Ox
DJ Cowled
Mootalica
Milkauley Culkin
Frida Cowlo
Pablo Picowsso
Sir Loin
Hugh Heifer
Blake Livestock
Marilyn Moonroe
J.K. Cowling
Liza Cowshy
Big Mac
T Bone
Donald Rump
Bradley Mooper
Sandra Bullock
Dairy Lee
Beef Stew
Cute Cow Names
Even though cattle grow into big, hooved animals, you can still give them cute names since they're dear to you.
Cocoa
Cookie
Cupcake
Sunshine
Jellybean
Muffin
Prince
Princess
Buddy
Joey
Magic
Maggie
Beauty
Pancake
Penelope
Peaches
Sprinkles
Syrup
Popsicle
River
Diamond
Beany
Trotter
Silver
Rain
Oats
Chalky
Fisher
Rice
Joy
Juicey
Tulip
Pollen
Lacey
Opal
Cloud
Cream
Bug
Star
Blossom
Bumble
Eenie
Stamps
Gorgeous
Pita
Arnie
Harvest
Blue
Pepsi
Milky
Marble
Spots
Clover
Good Cow Names
Enid
Noreen
Sunny
Iris
Isabella
Winston
Oreo
Jewel
Murphy
Mouruiel
June
Leona
Pinky
Patricia
Lila
Bailey
Tilly
Betsy
Mopsy
Betsy
Elsie
Elsa
Blue Cow
Hank
Olivia
Buster
Pearl
Scarlett
Sophie
Nettie
Augustine
Bella
Trudy
Adelle
Alma
Jax
Shelly
Alex Moogan
Gunnar
Babe
Bossy
Muriel
Pauline
Apollo
Sylvia
Nora
Nellie
Emma
Ollie
Victoria
Bruno
Vera
Adeline
Leo
Toby
Moose
Louie
Sue
Sally
Imogen
Famous Cow Names
Mrs. Calloway
Betsy the Cow
Heffer Wolfe
Kai
Toro
Ferdinand
Laughing Cow
Milky White
Benny
Clemantine
Maw Cow
Taurus Bulba
Clovis
Mr. Udderly
Ermantrude
Flossie
Dixie
Baby Cow Names
Joy
Joey
Moo Moo
Astro
Dumpling
Diablo
Summer
Speedy
Tinker
Flipper
Imp
Loopy
Zippy
Titch
Cartoon Cow Names
Clarabelle Cow – This character is from the classic cartoon series, and it's in the narrative universe of Mickey Mouse. Clarabelle Cow is seen in various stories of this narrative universe.
Molly Moo-Cow – It's a character from another classic cartoon entitled 'Rainbow Parade.' Those who love old entertainment will likely choose this name.
More of the cartoon cow names can be from Disney cartoons and movies, and they are as follow:
Boo
Cinderella
Dory
Mulan
Nemo
Sully
Woody
Remy
Lightning McQueen
Buzz Lightyear
Boo
Meridia
Australian Cow Names
Jersey
Emily
Jack
Henry
William
Mia
Ava
Kickers
African Cow Names
Ola
Ike
Nneka
Chima
Zuma
Zanga
Sungu
Scottish Cow Names
Angus
Andy
Andrew
Bearnard
Tory
Uilleam
Carson
Dallas
Lennox
Ian
Grant
Cameron
American Cow Names
Vannesa
Vin
Watson
Wendy
Harry
Clinton
Clifford
Jack
Jackson
Jones
Tom
Tommy
Lana
Katy
Sammy
Steve
Sandra
Newton
Patrick
Randy
Mac
Ryan
Bella
Billy
Bill
Cowboy Names
Badass Cowboy Names – The badass ones should have a name that represents their character.
Breaker
Buster
Duke
Colt
Justice
Gunner
Rancher
Buck
Blaze
Decker
Flint
Hawk
Chance
Maverick
Ranger
Rye
Reno
Romer
Wilder
Tex
Bookish Cowboy Names – These are for cowboys who are confident and comfortable when on a saddle.
Jameson
Calvin
Dexter
Gus
Otis
Reeve
Coleman
Brooks
Phineas
Sterling
Waylon
Wade
Walker
Thatcher
Yale
Silas
Rufus
Funky Cowboy Names – These names are not for those who are shy and quiet.
Boone
Bronco
Dodge
Houston
Hitch
Dusty
Dice
Destry
Calhoun
Early
Montana
Jericho
Huckleberry
Ode
Solo
Mccoy
Utah
Tripp
Quint
Zalman
Urban Cowboy Names – Cowboys can be everywhere, even in urban areas.
Roscoe
Remington
Loyal
Mack
Kit
Bowen
Denver
Sawyer
River
Nash
Jem
Levi
Abner
Deacon
Shane
Wyatt
Zane
Shilon
West
Wylie
White Cow Names
A snow-white cow is a beautiful species, so it deserves to have a wonderful name.
Crystal
Blizzard
Nova
Moonshine
Diamond
Gem
Ghost
Dazzle
Alaska
Angel
Ivory
Luna
Lily
Magnolia
Marshmallow
Cloud
Pearl
Shimmer
Opal
Star
Starlight
Snowball
Snowflake
Cotton
Coconut
Glacier
Powder
Snow White
Puff
Black and White Cow Names
A child usually describes a cow as black and white, as this is the image shown on TV and in books. A Belted Galloway can have 'Oreo' as a name. Nonetheless, there are many names that you can choose, as they are listed below:
Salt N Pepper
Coca Cola
Domino
Cookie
Panda
Polka
Freckles
Humbug
Charlie Chaplin
Keys
Peble
Cruela
Snoopy
Banksy
Badger
Skunk
Pebble
Vintage
Pongo
Snake Eye
Silhouette
Harlequin
Newt
Tuxedo
Magpie
Zebra
Blackberry
Penguin
Retro
Darth Vader
Lemur
Ziggy
Perdita
Smudge
Summary
It's worth taking some time to choose a name for your cows as you can establish a good relationship with them. Your cows will be at ease and not stressed, and those who produce milk become more efficient. Naming your cow should be on your list of how to care for them and make your farm flourish.
List of Sources
Kaarlenkaski, T., Saarinen, K. (2013). Proper Name or Number Sequence? The Meanings and Changes of Naming Cows. Academia.
Burris, R. (2016). What Is "Cow Sense"? The Ohio State University.
Small Acres: The New Frontier. United States Department of Agriculture.