Opposable thumbs, unlike other fingers, can flex and rotate against, as well as touch other fingers easily, allowing a specialized, precision grip and manipulation of objects.
As such, they are usually associated with a part of the evolutionary process of man. However, they are also present in certain animals.
Animals with opposable thumbs are the Waxy Leaf Tree Frogs, Possums, Opossums, Baboons, Koalas, Pandas, Orangutans, Gorillas, Chimpanzees, and Chameleons.
This article discusses the different animals with opposable thumbs, their physical attributes, distinctive characteristics, places of origin and habitats, and other interesting information. Read further for more!
10 Animals With Opposable Thumbs
Waxy Leaf Tree Frogs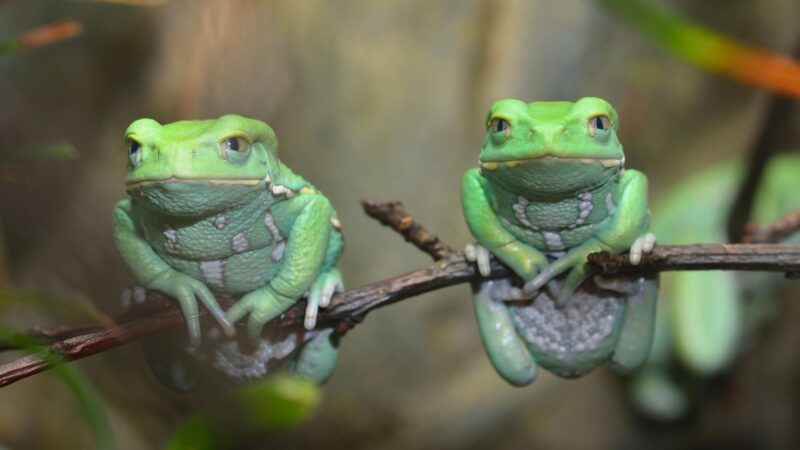 These frogs are known for their distinguishable opaque upper skin layer that is coated with natural wax, giving them a sheen green appearance, hence their name.
Waxy leaf tree frogs have opposable thumbs that they use to grip trees. Because of this, they walk as a means of locomotion instead of jumping as other frogs do.
Scientific Name: Phyllomedusa sauvagii
Appearance: Broad, trapezoid-shaped head, a truncated snout, circular-tipped teeth, protruding eyes with vertically elliptical pupils, long and thin limbs, long tail, and no toe webbing.
Color: Ranges from bright green to light brownish color, with a natural waxy coating that gives them a distinguishable opaque upper skin layer. They are also streaked with white on their belly, chest, and undersides.
Lifespan: Up to 8 years (captivity)
Habitat: Vegetation such as trees, shrubs, and forest fragments that are preferably near water sources. They can also be seen in flooded fields and temporary lagoons during mating season.
Height: 69 to 96.6 millimeters
Diet: Insects such as crickets, waxworms, silkworms, roaches, as well as arachnids and other invertebrates
Place Of Origin: South America
Characteristics: Nocturnal, solitary, sedentary, and territorial
Possums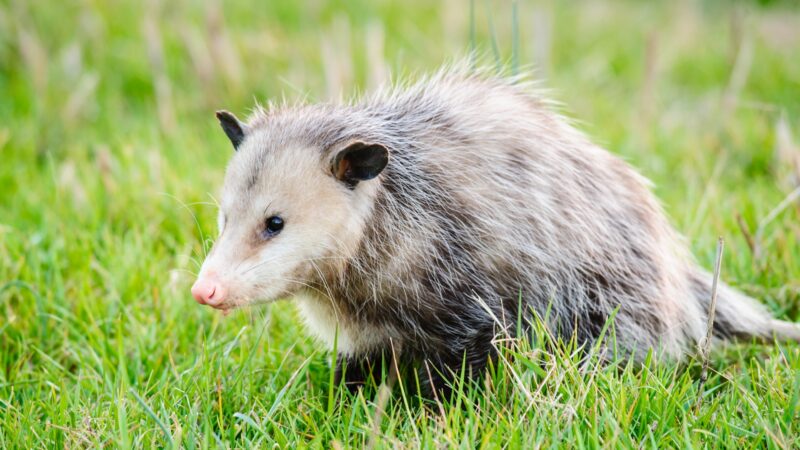 Not to be confused with opossums, which belong to a different scientific order, possums have opposable thumbs on each foot and big toes, which provide them a strong grasp when climbing on trees. Their colors also adapt to the environments they live in—those living in colder areas are darker in color while those in warmer areas are light-colored.
Scientific Name: Phalangeriformes
Appearance: Varies depending on species, but they generally have large ears, a pointed snout, long whiskers, and sharp claws.
Color: Varies in color but are usually gray or black. They can also be copper-colored or have a greenish hue on them. Moreover, they have dark eyes and pink noses.
Lifespan: Up to 13 years (wild), Up to 14 years (captivity)
Habitat: Woodlands, forests, and inland areas, specifically those along creeks and rivers lined with trees. They can also thrive in urban and human-occupied environments.
Height: 70 millimeters to 70 centimeters
Weight: 10 grams to 7 kilograms
Diet: Varies depending on the possum family, as brushtails are either generalist herbivores or omnivores, gliders are specialist consumers of eucalyptus, pygmy possums are insectivores, and honey possums feed on nectar.
Place Of Origin: Australia, New Guinea, Sulawesi
Characteristics: Some species are solitary except during the breeding season, while some are social, territorial, sedentary, and nocturnal
Opossums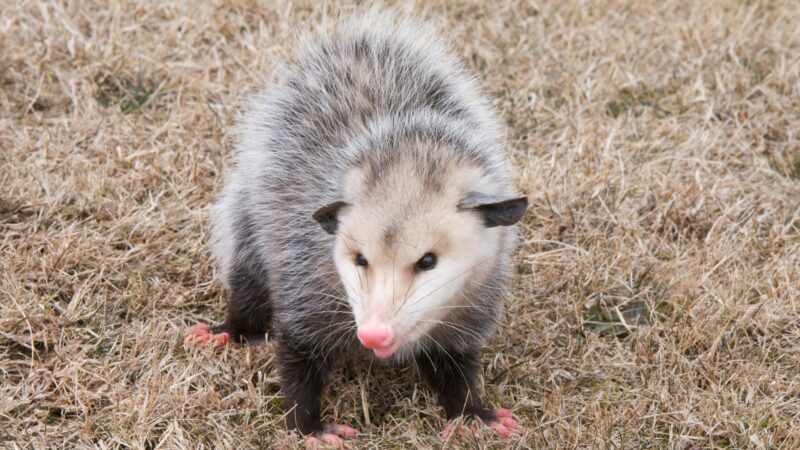 Thanks to a long, prehensile tail and opposable thumbs, referred to as hallux, on their feet, opossums are excellent climbers. When caught in the daytime by a predator, they will "play possum" as a defense mechanism by entering a catatonic state wherein they fall onto their side, curl their body, open its mouth, and excrete fecal droppings, appearing as if they are dead.
Scientific Name: Didelphidae
Appearance: Small to medium-sized marsupial with a long and pointed snout, dark eyes, long and hairless tail, and hairless ears
Color: Their fur has a mix of white, black, and gray hairs, but they have an overall grayish coat with a white face and dark eyes.
Lifespan: Up to 2 years (wild), Up to 4 years (captivity)
Habitat: Generally lives in swamps or forests, but they are well-adapted to urban and suburban environments, such as in barns, sheds, or under homes.
Height: 15 to 94 centimeters
Weight: 300 grams to 6.4 kilograms
Diet: Carrion, rodents, insects, birds, snakes, and even chickens. They also feed on nuts, fruits, and grass.
Place Of Origin: North America
Characteristics: Nocturnal, solitary except during mating season and when females form family groups, together with their juveniles, territorial but only the males, and migratory
Baboons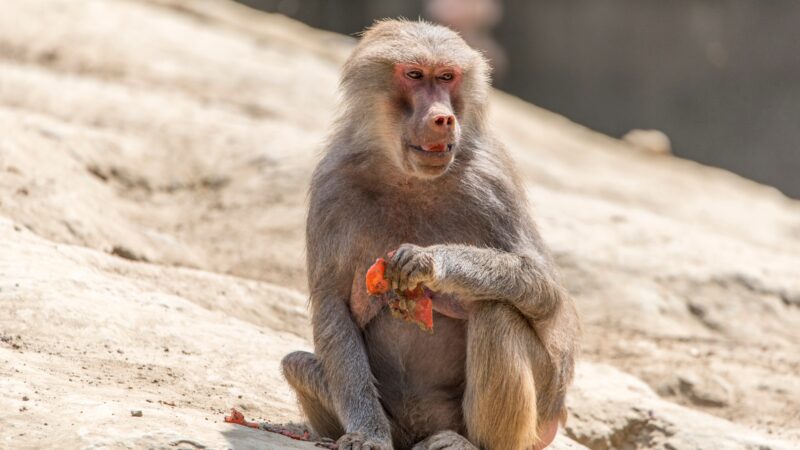 Baboons have highly opposable thumbs and index fingers, which provide them with a precise grip and the ability to handle and manipulate objects. They have notable manual dexterity, which also aids in foraging and terrestrial locomotion. Since their fingers are short but substantially built, they are also able to dig efficiently.
Appearance: Large head with a nearly bare, long face, conspicuous muzzle, and cheek pouches, as well as completely bare palms and foot soles, heavy jaws, close-set eyes, and sharp teeth.
Color: Fur coloration can range from black to olive-gray, brown to silver, and reddish to yellow. Males have white manes.
Lifespan: Up to 40 years (wild), up to 45 years (captivity)
Habitat: Occupy a range of habitats, including scrublands, semi-arid woodlands, sub-deserts, savannas, steppes, grasslands, and rainforests.
Height: 51 to 86 centimeters
Weight: 15 to 37 kilograms
Diet: Able to subsist solely on forbes and grass but can virtually consume anything edible, including flowers, buds, leaves, eggs, seeds, insects, rodents, birds, and the juveniles of larger mammals.
Place Of Origin: Africa and Arabia
Characteristics: Sedentary but will travel several kilometers from their home range to forage for food. They are also social as they sleep in groups, are diurnal, and are not territorial.
Koalas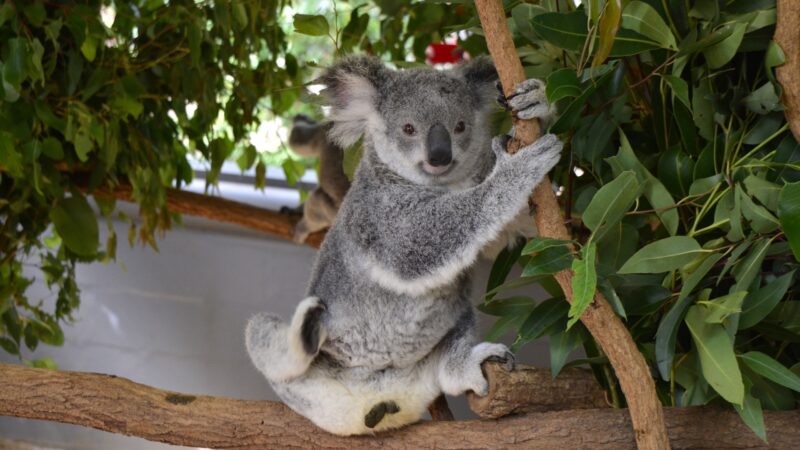 Koalas have 2 opposable thumbs on both their front and hind paws, which helps them have a more secure grip when holding onto and moving between branches. The leaves of eucalypt species are highly toxic, but koalas have specialized bacteria in their stomachs that efficiently metabolize the leaves' toxins. According to the Queensland Department of Environment and Science, koalas are categorized as endangered as of February 2022.
Appearance: Pear-shaped body with a large round head, large nose and paws, furry ears, dense wooly fur, and a vestigial tail. Males have a broader face, relatively smaller ears, and large chest glands, whereas females have two mammae instead of a chest gland and a pouch.
Color: Fur that is gray to brown in coloration, depending on the geographic location. Its chest, chin, ear fringes, and inner sides of the forelimbs are white.
Lifespan: Up to 17 years (wild), up to 20 years (captivity)
Habitat: Low woodlands or areas with semi-arid environments. They particularly reside on the branches of eucalyptus trees that border bodies of water.
Height: 72 to 78 centimeters
Weight: 5.1 to 11.8 kilograms
Diet: They feed heavily on the leaves of eucalypt species such as manna gum, gray gum, swamp gum, forest red gum, and river red gum, but they also consume non-eucalypt species such as trees belonging to the Lophostemon genus
Place Of Origin: Australia
Characteristics: Relatively sedentary, nocturnal, especially during the breeding season, not social, and highly territorial
Pandas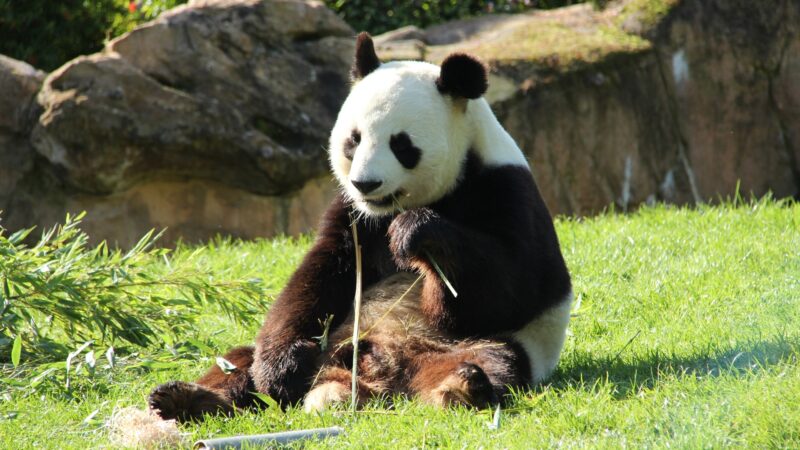 Pandas have a special physical adaptation called the panda's thumb, which is an extra opposable digit, specifically a skin pad that overlies on its wrist bone. This provides them with increased dexterity to handle and tear bamboo.
Additionally, they have extremely muscular stomach walls lined with a thick layer of mucus that helps digest wood and protect against splinters.
Appearance: Stocky body with a round head, short tail, large chest, and powerful jaws
Color: Black fur on its eyes, ears, muzzle, shoulders, and limbs, while the rest of its body is white. In some areas, its coloration can be a chestnut-red hue.
Lifespan: 15 to 20 years (wild), up to 35 years (captivity)
Habitat: Mountain ranges, forests (broadleaf, coniferous, and montane) with a dense bamboo understory
Height: 1.5 to 1.8 meters
Weight: 80 to 125 kilograms
Diet: Bamboos constitute 99% of a panda's diet, but they also feed on fruits and other plant matter, fish, small mammals, and insects.
Place Of Origin: China, specifically in the provinces of Gansu, Shaanxi, and Sichuan
Characteristics: Crepuscular, solitary except during the breeding season, relatively territorial but rarely aggressive, and migratory, wherein they follow the life cycle of bamboo
Orangutans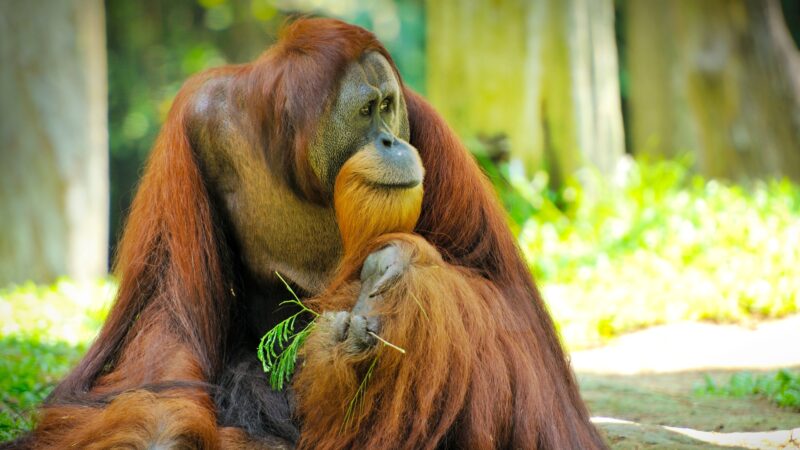 Orangutans are the largest arboreal mammals in the world. Their biological adaptations include extremely flexible joints and long arms, which aid in their locomotion, as well as opposable thumbs made for grasping.
Orangutans are known to brachiate or swing hand over hand, which allows them to evenly distribute their weight while moving among branches.
Appearance: Great apes with shaggy hair that covers virtually their entire body, with some of them developing a beard. They also have concave faces, flattened noses, large jaws, long arms, and flexible hips.
Color: Distinct orange or reddish hair
Lifespan: Up to 58 years (wild), up to 61 years (captivity)
Habitat: Areas that have increased canopy closure, uniform height, and vertical stability, such as those found in tropical evergreen forests, lowland soils, swamps, and fertile valleys
Weight: 30 to 97 kilograms
Diet: Fruits comprise 60% of their diet. Common food items are durians, ficus, apples, berries, bananas, oranges, jackfruits, lychees, and breadfruits. They also raid farmlands for crops due to decreasing habitat. If the fruit is unavailable, they consume invertebrates such as ants, caterpillars, maggots, and termites.
Place Of Origin: Indonesia, Borneo, and Northern Sumatra
Characteristics: Semi-solitary for nearly their entire adult life, diurnal, rarely territorial, social, and motile as they move within their range to forage for food
Gorillas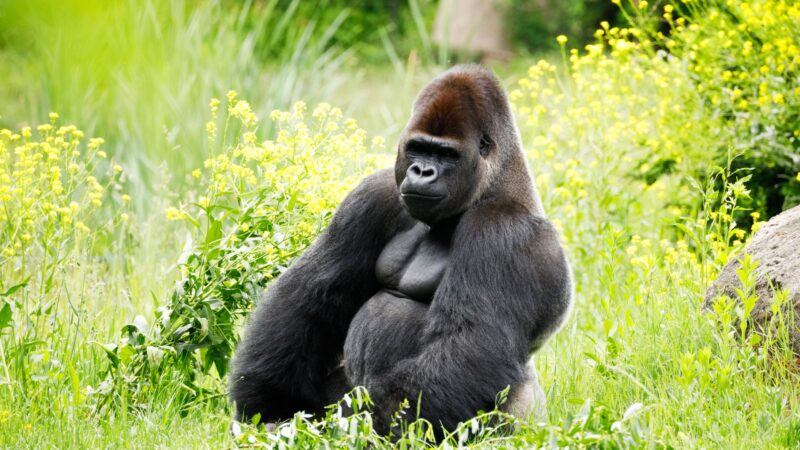 Gorillas have fully-opposable thumbs on their hands, and opposable hallux or a big toe found on their feet. They use these to dexterously pick up and handle objects, as well as hold their young in their arms securely and climb up on trees to reach for food and build nests. Male gorillas have glands found in their armpits that can emit a strong smell under distress.
Appearance: Exceptionally large primates with robust bodies, massive heads, long and muscular arms, short legs, and large and sharp canine teeth. Their coarse hair covers their entire body except for the face, hands, feet, and ears.
Color: Coat color ranges from sleek black to bluish-black to brownish gray. Mature gorillas develop silver or gray hair on the back and rump, earning them the nickname silverbacks.
Lifespan: Up to 40 years (wild), up to 50 years (captivity)
Habitat: Tropical secondary forests, montane cloud forests, and afro-alpine meadows, preferably with open canopies.
Height: 1.25 to 1.85 meters
Weight: 70 to 275 kilograms
Diet: Plant material such as stems, berries, leaves, roots, piths, shrubs, flowers, fruits, fibrous bark, fungi, wood, and vines. They occasionally consume invertebrates.
Characteristics: Diurnal, shy but aggressive when threatened, territorial, social as they live in groups, and sedentary
Chimpanzees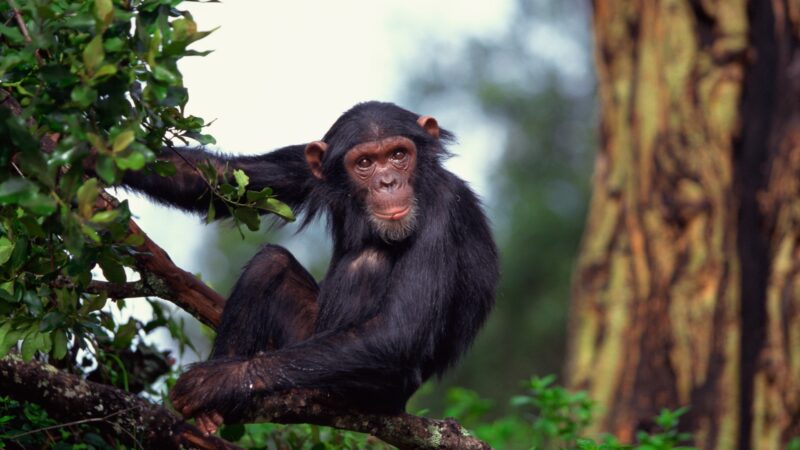 Chimpanzees bore the closest relation to humans, with 98.8% genetic similarities. However, chimpanzees have opposable thumbs on both their hands and feet, unlike humans, with only one opposable thumb on each hand and none on the feet. These allow chimps to use simple tools, but since their intelligence is high but limited, they can't construct complex tools.
Appearance: Long arms and hands, short legs, prominent ears and crest, protruding lips, and a slightly prognathic face (protruding at the lower jaw)
Color: Overall body hair is black to brown in coloration, and the face is black or mottled with brown with some white hairs in some individuals
Lifespan: Up to 59 years (captivity), Up to 63 years (wild)
Habitat: Tropical rainforests, savannas, and forest-savanna mosaic environments.
Height: 36 to 92.5 centimeters
Weight: 26 to 70 kilograms
Diet: Young leaves, ripe fruits, and other plant material such as buds, piths, stems, resins, seeds, and barks. They also consume a variety of insects, eggs, and small vertebrates, as well as soil when they are composed of termite mounds.
Place Of Origin: Central Africa
Characteristics: Highly social as they form various social relationships within a single community, diurnal, not strictly territorial, and sedentary
Chameleons
Known for their ability to rapidly change colors, Chameleons are reptiles specialized for climbing. They have a zygodactyl foot pattern, which means three of their toes are located on one side and two on the other side, forming a mitten-like shape. These sets of toes are fused medially, resulting in opposable paddle-like toes, giving them a strong grip when moving on trees.
Appearance: Laterally compressed body with a projectile tongue, prehensile tail, independently moving eyes, long and slim legs, and zygodactylus feet. Head shape is dependent on species, with some having helmet-shaped heads and others adorned with horns.
Color: Can range from a variety of colors, including red, orange, yellow, green, blue, turquoise, brown, and pink.
Lifespan: 3 to 10 years (captivity), up to 25 years (wild)
Habitat: Most species are arboreal, living on treetops found in woodlands, savannas, mountain regions, forests, and thickets, although they can also be on low-growing plants such as shrubs and bushes. Some species are terrestrial, inhabiting plains and deserts.
Height: 35 millimeters to 60 centimeters (body length)
Diet: Plants, insects (crickets, locusts, grasshoppers), and small rodents and birds
Characteristics: Diurnal, solitary, highly territorial, and sedentary
Animals with opposable thumbs are usually adapted to an arboreal lifestyle or living in trees as they use these digits, together with their hands, feet, and limbs, for gripping tree branches, locomotion, and handling objects. Since great apes are man's distant primate relatives, it comes as no shock that they dominate this list.
List of Sources
Shefferly, N. (2004). Papio. Animal Diversity Web.
Koala facts. (2022). State of Queensland (Department of Environment and Science.
Bies, L. (2002). Ailuropoda melanoleuca. Animal Diversity Web.
Hey, A. (2022). Pongo. Animal Diversity Web.
Shefferly, N. (2005). Pan troglodytes. Animal Diversity Web.