Long-necked animals have always been an interesting topic, not just in scholarly and scientific discussions but also among common people because it's amazing how some animals' necks, such as giraffes, could reach up to 2 meters in length!
In this post, we're going to uncover 15 great animals with long necks, their physical attributes (including their neck lengths), distinctive characteristics, food preferences, and more information you may have not known about them.
15 Animals With Long Necks
Llama
Llamas are intelligent and naturally curious mammals with a calm temperament. This makes them great companions to humans as they can be pets, sources of fiber and wool, cart-pullers, sheep or farm animal guards, and pack animals.
Appearance: Long necks and limbs, cleft upper lip, protruding lower teeth, rounded muzzles, stubby tail, erect but curved ears, cloven feet, and thick, shaggy pelage
Color: Bodies vary in color, but the most common coloration is reddish brown fur with white or yellow patches. They can also be shades of brown, beige, black, white, and red.
Neck Length: Up to 25 centimeters
Lifespan: 10 to 20 years (captivity), up to 20 years (wild)
Weight: 130 to 155 kilograms
Diet: Vegetation such as native shrubs, lichens, grasses, and hays. Domesticated llamas can be fed cereal grains.
Place Of Origin: Andes in South America
Characteristics: Highly sociable animals who prefer to live in groups made up of up to 20 individuals. They're also territorial and aggressive against predators.
Giraffes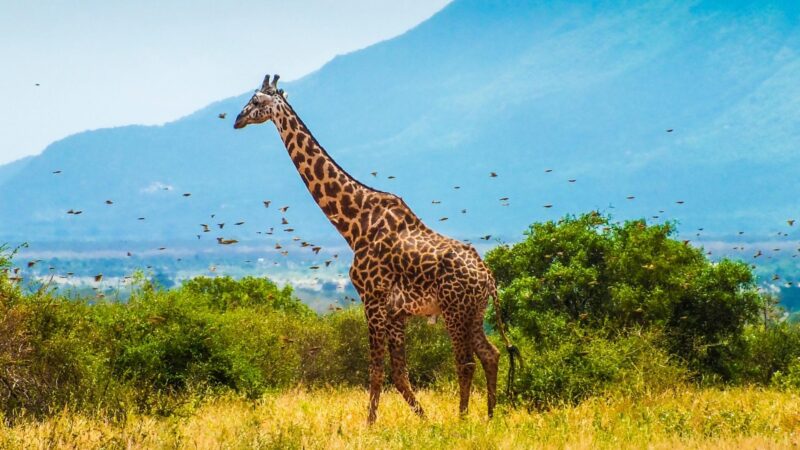 Considered the world's tallest mammal, giraffes are known for their long body proportions, especially their distinct long necks. They can gallop and sprint over short distances up to 56 kilometers per hour.
Appearance: Long neck, legs, tongue, and tuft tails. Females have thin horns, while males have thick horns. On the other hand, both of them have large eyes and narrow muzzles.
Color: Coats can be a variety of brown, tan, and black shades. The common color is a light tan with orange-brown patches. However, their patterns are said to be unique for each individual. Their tails have a black tuft at the end, and they also have dark-colored tongues (mostly purple or black).
Neck Length: 1.8 to 2.4 meters
Lifespan: 10 to 15 years (wild), up to 27 years (captivity)
Diet: Seed pods, leaves, fruits, flowers, soil when it is full of minerals or is salty in flavor
Characteristics: Usually silent, non-territorial, and sociable creatures capable of living in herds of up to 70 individuals. They also have established dominance hierarchies.
Alpacas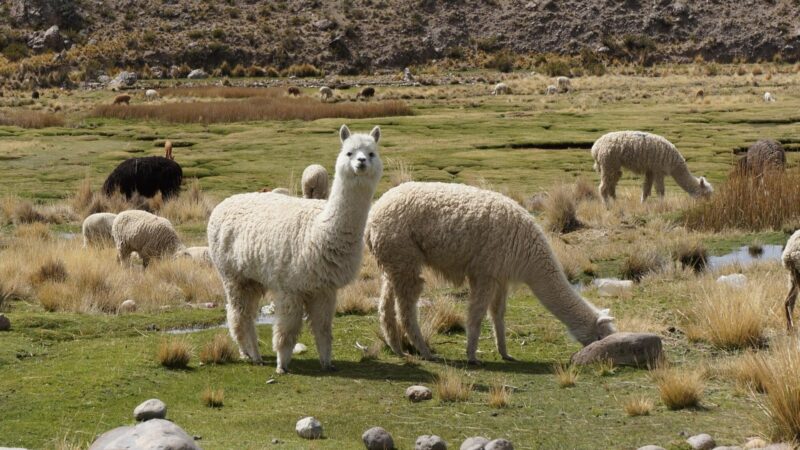 Smallest in size compared to other domesticated camelid species, alpacas are also used for guarding, packing, and wool fiber production. They often need the companionship of another alpaca, or more, to survive as they have naturally strong herding instincts.
Appearance: They have slender bodies with long necks and legs, small heads, pointed but curvy ears, short furry tails, and fine-textured pelage.
Color: Coat colors can be varying shades of white, black, or brown.
Neck Length: Up to 36 centimeters
Lifespan: Up to 20 years (captivity), 5 to 10 years (wild)
Weight: 45 to 90 kilograms
Diet: Grasses, cushion plants, bunch grasses, woody shrubs, and hay
Place Of Origin: South America
Characteristics: Social animals that live in herds can consist of other animals such as goats, llamas, and sheep. They also have dominance hierarchies and are mostly gentle creatures except when fighting with other alpacas.
Dromedary Camels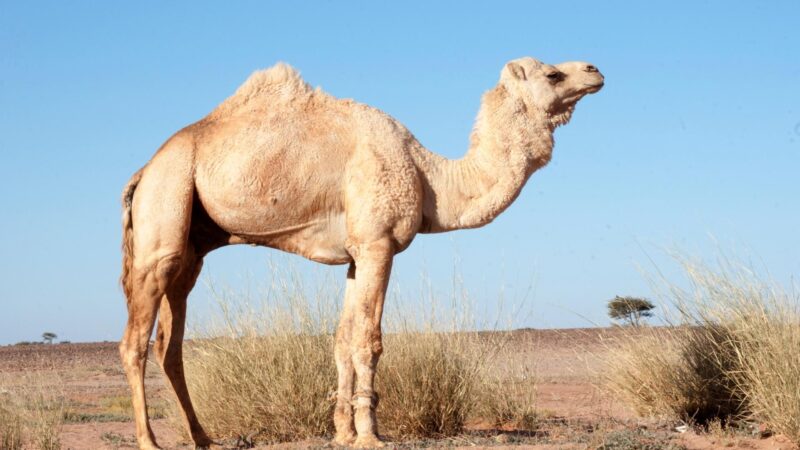 Also referred to as Arabian camels, they were once considered wild animals but are now deemed semi-domesticated animals under the supervision of herdsmen. They highly prefer deserts that have short rainy seasons and long dry seasons.
Appearance: Camels with a single hump, small and narrow head, deep and narrow chest, long curvy necks, pad-shaped feet, double-row eyelashes, and long hairs on the shoulder, hump, and throat areas.
Color: Coloration can be various shades of brown, black, and white but are typically sandy or caramel brown.
Neck Length: 75 to 152 centimeters
Lifespan: 40 to 50 years (captivity), up to 40 years (wild)
Diet: Mainly thorny plants, salt-bush, and dry grasses, but they also feed on grains, oats, wheat, or virtually anything that grows in deserts that are considered safe and edible.
Place Of Origin: East Africa, possibly Arabia
Characteristics: Social animals that form groups of up to 20 individuals. They display a little aggressiveness towards each other, especially males. They are nomadic and like to travel by walking in a single file.
Flamingos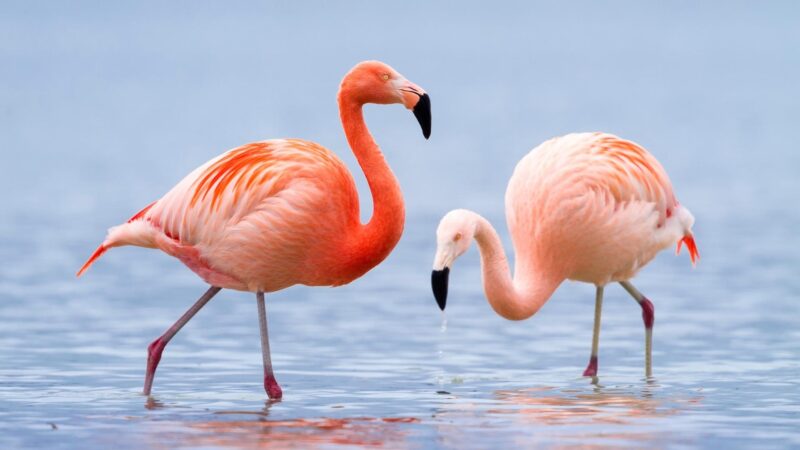 Known for their pink coloration, flamingos are wading birds that prefer to live in hyper-saline estuaries, mud flats, or near bodies of water such as coastal areas, open lakes, and rivers. They're filter feeders that can fly due to migration, mating, or when foraging for food.
Appearance: Slender body with long neck resembling a coat hanger, long thin legs, small head, downward-bending beak, large wings, short tails, and small webbed feet
Color: Bright or hot pink plumage with black flight feathers and black-tipped pale beaks. However, younger birds are gray in plumage.
Neck Length: 79 centimeters
Lifespan: 20 to 44 years (wild), up to 75 years (captivity)
Size: 120 to 145 centimeters
Weight: 2.1 to 4.1 kilograms
Diet: Algae, shrimp, crustaceans, mollusks, insects and larvae, fish, worms, small seeds
Place Of Origin: Southern United States, the Caribbean, and parts of Asia
Characteristics: Thrive, feed, and mate in large flocks, which contain up to thousands of individual birds. They're protective of one another, colonial, and territorial when looking for food.
Whooper Swan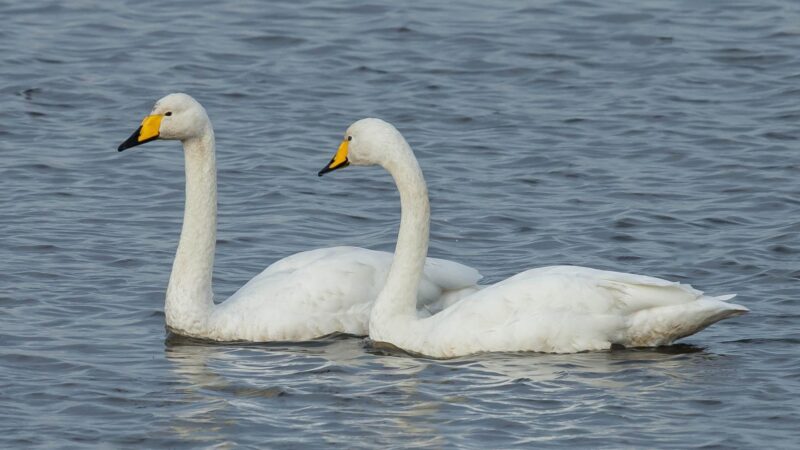 Considered one of the most elegant swan species, whooper swans are migratory birds that live in boreal regions. They usually communicate and signal through various head movements, wing flapping, and calling. They're friendly birds who would take the feed directly from human hands.
Appearance: Large bodies with webbed feet, long thin neck, erect legs, and pointed v-shaped bill
Color: White plumage, black legs and feet, and an orange-yellow beak with a black tip. Females are characterized by longer and narrower necks.
Neck Length: 91 centimeters
Lifespan: 12 to 25 years (captivity), 10 to 20 years (wild)
Weight: 7.4 to 15.5 kilograms
Diet: Primarily aquatic plants and their roots, tubers, leaves, and stems. They eat crops during winter, leftover grains during autumn, and grass from mid-winter until the spring season.
Characteristics: Social birds during the winter season and territorial during summer. They prefer living in large flocks consisting of 40 or more individuals.
Scarlet Ibis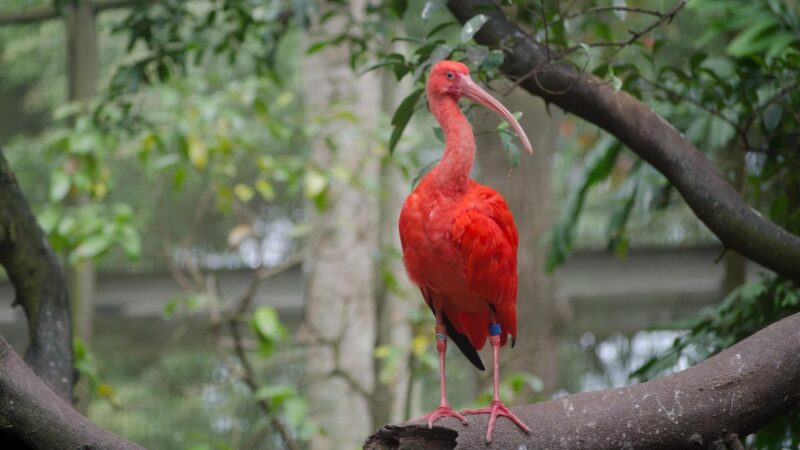 A type of wading bird known for its bright red coloration, scarlet ibis inhabit swampy environments in large flocks but are usually living together in pairs. They're generally quiet birds but produce honking sounds to display hostility and aggression towards other birds.
Appearance: Medium-sized bodies with long necks, narrow down-curved bills with a blunt but pointed square-shaped tip, partially webbed feet, and long legs.
Color: Bright red to pink plumage and legs with glossy blue-black wing tips visible during flight and dark-colored bills.
Neck Length: 21 centimeters
Lifespan: Up to 16 years (wild), up to 33.2 years (captivity)
Size: 55.8 to 76.2 centimeters
Weight: 650 grams to 1.4 kilograms
Diet: Primarily small crabs and other crustaceans, crayfish, and aquatic insects. They also feed on mollusks, frogs, and small fish and snakes.
Place Of Origin: Northern South America
Characteristics: Highly social and communal birds during foraging and nesting. They migrate in large flocks and can travel long distances. Males can get territorial and often involve themselves in disputes.
Eastern Snake-Necked Turtles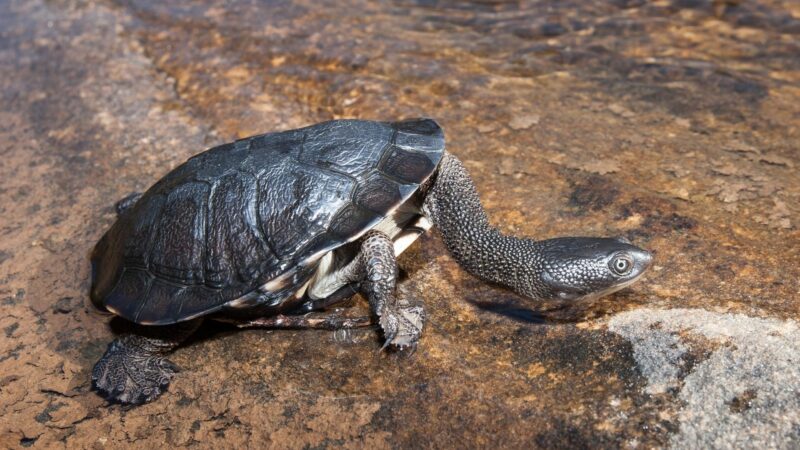 These semi-aquatic turtles prefer inhabiting rivers and streams and are usually found dwelling on the bottom of them. They're also referred to as Australian snake-necked turtles that hunt similarly to snakes, wherein they tuck their necks sideways under their shells as they approach their prey.
Appearance: Medium-sized turtle with a shallow central groove on its oval-shaped carapace or outer shell. It has a small head with narrow and long necks that are covered with tubercles or rounded points of bones and a thick tail.
Color: Light brown to black carapace, dark gray or brown head, limbs, and neck, and cream or yellow-colored undersides
Neck Length: 16.8 centimeters
Lifespan: 31 to 37 years (captivity)
Size: 25 to 28 centimeters
Diet: Fish, plankton, tadpoles, crustaceans, and carrion. They also feed on terrestrial insects.
Place Of Origin: Southeastern Australia
Characteristics: Carnivorous animals that adopt a wait-and-ambush strategy when capturing prey. They're solitary and nomadic, as they change habitats frequently depending on environmental conditions.
Gerenuks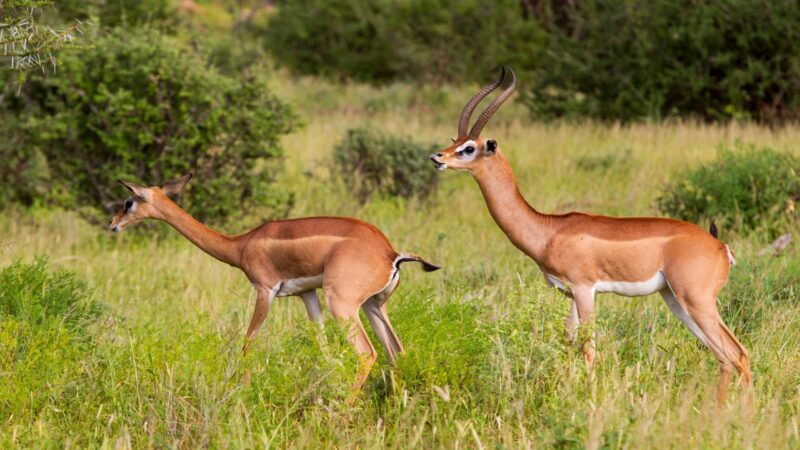 Gerenuks, also known as giraffe gazelles, like reaching leaves on the low-hanging branches of smaller trees. They're biologically an antelope species that can inhabit a variety of habitats but prefer living in deserts.
Appearance: Long and narrow head with medium-sized ears. Males have horns that are shaped like single-edged blades.
Color: Pale tawny brown pelage with a white underbelly, breast, and inner legs. Dark patches are found on its knees and at its tail ends.
Neck Length: 24 centimeters
Lifespan: 10 to 12 years (wild), up to 13 years (captivity)
Size: 140 to 160 centimeters
Weight: 29 to 58 kilograms
Diet: Primarily succulents, plant leaves, bush shoots, flowers, buds, and fruits
Place Of Origin: East Africa
Characteristics: Females are social and form groups of 10 individuals, which include juveniles, while males are highly territorial and solitary. Young males are known to be nomadic until they're old enough to establish their territories.
Ostriches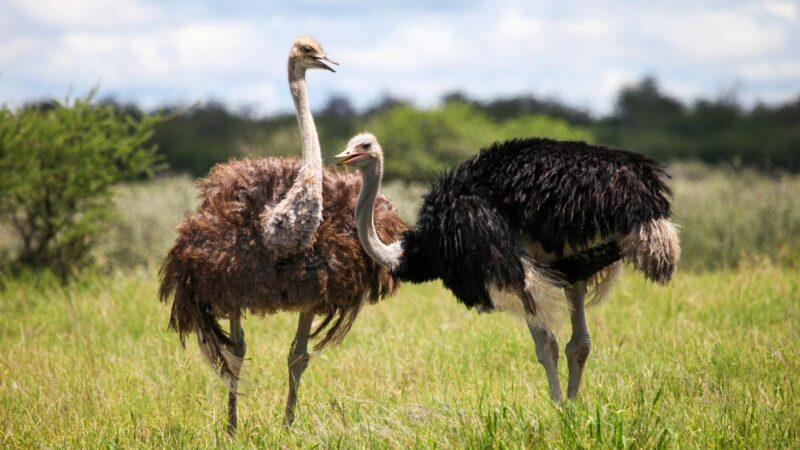 Large birds famously known for being unable to fly, ostriches are instead the fastest running bird species in the world. They're able to continuously run at 48 to 60 kilometers per hour and even sprint up to 69 kilometers per hour. They're also known to be fond of water and take baths when the opportunity arises.
Appearance: Large bodies with long and muscular legs, thick eyelashes, and downy feathered coats
Color: Females have grayish-brown bodies, while males are black and white in color. The necks and legs are a pale pink to white color.
Lifespan: 30 to 40 years (wild), up to 70 years (captivity)
Weight: 90 to 130 kilograms
Diet: Primarily plant matter but selective when it comes to flowers, seeds, and grass species. They also feed on locusts and animal remains.
Characteristics: Social birds that live in flocks are made up of 5 to 50 individuals. They also accompany antelopes, zebras, and other grazing animals.
Jabirus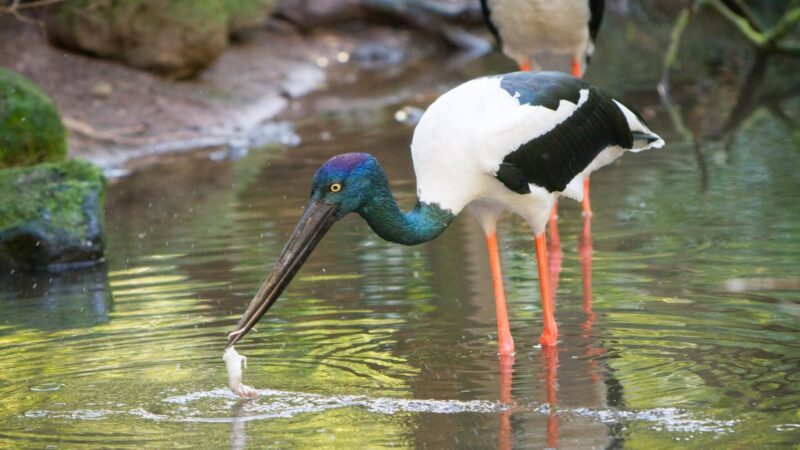 Jabirus are the tallest flying birds in South America. They're characterized by their swollen necks, which they're named after. Their habitats are usually located near open wetlands such as savannas, ponds, rivers, and freshwater marshes.
Appearance: Thin bodies with featherless necks and heads, long legs and necks, and a broad, upturned beak.
Color: Black heads and necks with white plumage, silver tufts of hair on top of the head, a band of skin located at the lower neck that is a deep pink color when idle but can turn into a deep scarlet color when they're annoyed. They also have black legs and feet and pink skin above the sternum visible only when the bird stands erect.
Neck Length: 61 centimeters
Lifespan: Up to 30 years (wild), up to 36 years (captivity)
Size: 115 to 152 centimeters
Diet: Primarily fish, insects, mollusks, and amphibians, but they also feed on small mammals, reptiles, and carrion.
Characteristics: They are diurnal and social birds often found in groups. Non-migratory but occasionally move to find potential foraging areas.
Rheas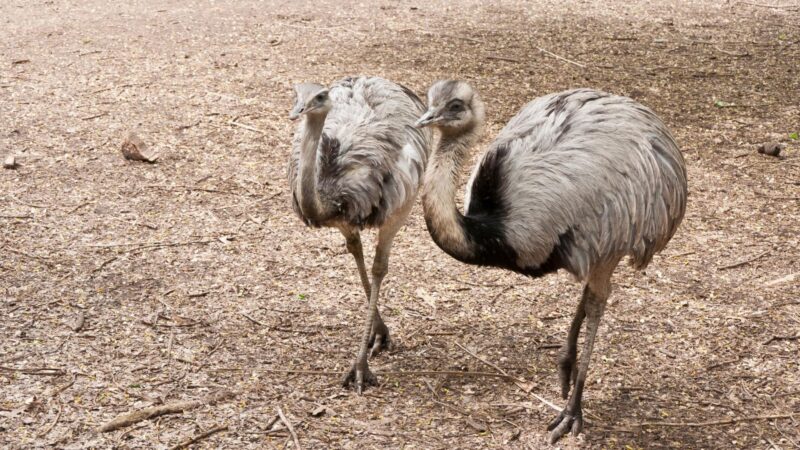 Also known to be flightless birds, rheas have long, powerful legs and are considered capable swimmers and fast runners. Their feathers are used as material for feather dusters, while their skins are used to create leather, although there have been regulations to limit these.
Appearance: Oval-shaped bodies with long, protruding necks, large and powerful wings, and long legs. They look similar to ostriches, but they are considerably smaller in size.
Color: Brownish gray plumage with black dorsal feathers and white ventral feathers. Beaks and scaled legs are yellowish brown in color.
Neck Length: 27.4 centimeters
Lifespan: 30 to 40 years (captivity), 15 years (wild)
Weight: 26 to 36 kilograms
Diet: Mainly plants that are both wild and cultivated. They prefer agricultural grain, grass, seeds, and leguminous crops. They also feed on snakes, small birds, fish, and sometimes insects.
Place Of Origin: South America
Characteristics: Generally, they are social birds that form three distinct groups during the breeding season are made up of individual male birds, mature females, and flocks of juveniles accompanied by adult non-reproductive males. Some of them are solitary.
Emu
Emus are also flightless birds that live in virtually all habitable biomes found in Australia, but they prefer grasslands, forests, and areas with subtropical climates. Their signature calls resemble their names and are heard as "e-moo."
Appearance: Large bodies with long bare legs, calf muscles (the only bird species that have them), long necks, and large beaks
Color: Dark plumage, especially after molting, but they become paler at the end of the summer season. Their heads are covered in black wispy feathers with necks that are whitish-blue in color and black-colored beaks.
Neck Length: 27.4 centimeters
Lifespan: 5 to 7 years (wild), 15 to 20 years (captivity)
Weight: 36 to 40 kilograms
Diet: Mainly seeds, fruits, small animals, and insects. They also feed on animal droppings. They don't like eating leaves and dry grasses.
Place Of Origin: Australia
Characteristics: Solitary birds, but can be social when looking for food in large groups or sharing nests. They're strictly diurnal and are naturally curious birds.
Great Blue Heron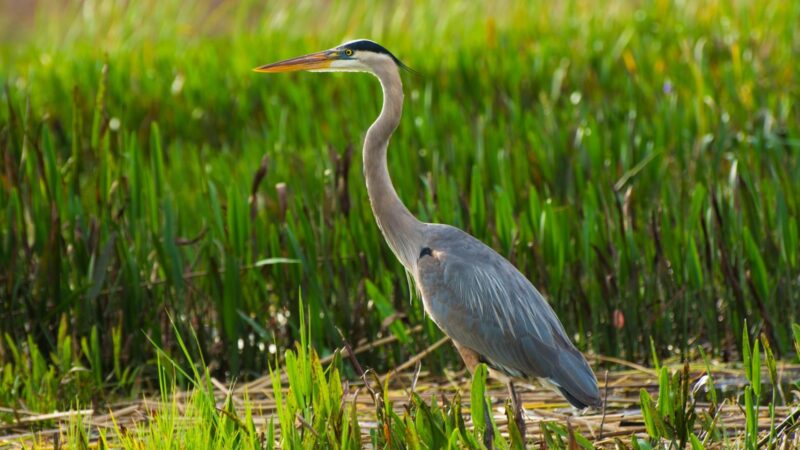 Largest herons in North America and with the most widespread distribution, great blue herons are highly adaptable birds and are considered an apex predators in aquatic food webs. They are known for having the tendency to eat fish that are too large for them to swallow, which makes them choke.
Appearance: Large bodies with thin plumage and long necks and legs
Color: Blue-gray upperparts, white-gray plumage with reddish or black patches on their thighs, sides, and flanks, and yellowish-green to dark gray legs. Their necks can be various shades of white, red, or gray.
Neck Length: 76.2 centimeters
Lifespan: 15 to 24.5 years (wild)
Size: 97 to 137 centimeters
Weight: 2.1 to 2.5 kilograms
Diet: Primarily fish, but they also feed on lizards, young birds, frogs, salamanders, shrimp, dragonflies, crayfish, grasshoppers, and a variety of other aquatic invertebrates.
Place Of Origin: North and Central America
Characteristics: Active during the morning and at dusk. They're highly territorial and defensive of their nests. They're also solitary but breed or sleep with flocks made up of over 100 individuals. Most populations are migratory, but those living in the Southern United States are sedentary.
Anhinga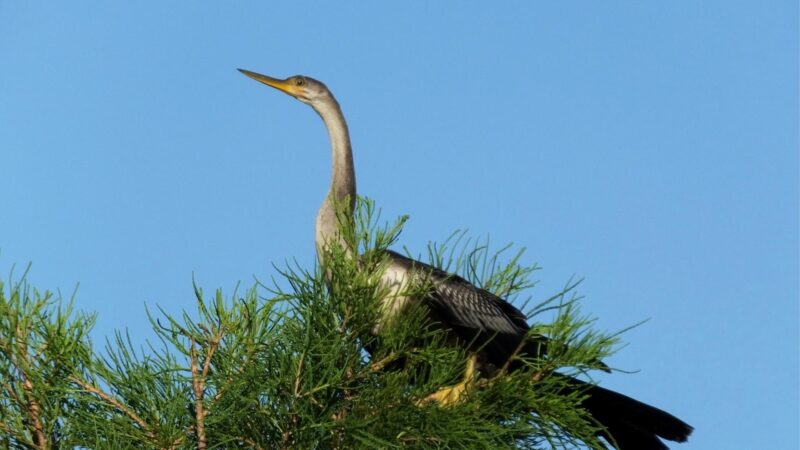 Anhingas are waterbirds and are known for being stealthy swimmers. They're also referred to as water turkeys due to their turkey-shaped tails or snake birds because of their long snake-like necks and slithering movement through the water. Unlike other waterbirds, they don't have waterproof feathers.
Appearance: Large and slender bodies, long S-shaped necks, dagger-like beaks, long fanlike tails, and flat wings
Color: Males have black plumage with silvery to white streaks on their wings and backs, while females and juveniles have pale tan-colored breasts, heads, and necks.
Neck Length: 91.4 centimeters
Lifespan: Up to 16.4 years (wild)
Size: 75 to 95 centimeters
Weight: 1.325 to 1.35 kilograms
Diet: Primarily fish, but they also feed on insects and aquatic invertebrates.
Place Of Origin: South America
Characteristics: They spend their time fishing or perching on trees. They're generally solitary but can be found in groups among other bird species such as ibises, herons, cormorants, or storks.
Why Do Giraffes Have Long Necks?
There is no scientific consensus regarding the reason why giraffe necks are long.
Most scientists believe that biological evolution and adaptation are the key factors why giraffes have elongated necks. They naturally developed them because they wanted to reach vegetation at higher places, specifically acacia trees which were abundant in their natural habitats.
However, there are counterarguments published to disprove this theory. One such researcher suggests that there is simply no scientific proof that verifies it. A majority of scholars and scientists just accept the theory because it aligns with current orthodoxy.
Another hypothesis is that giraffes developed long necks due to sexual selection among male giraffes vying and competing for potential mates. As such, the result would be varying head mass between male and female giraffes. However, there were no recorded differences.
How Fast Can Giraffes Run?
Giraffes can run up to 35 miles per hour when traveling short distances or cruise long distances at 10 miles per hour. They don't even need to continuously hydrate themselves as they can survive by drinking once every few days.
What Animal Has a Longer Neck Than a Giraffe?
There are currently no animals that could contend with the height of giraffes. They still are the tallest recorded mammals, with necks that can reach up to 2.4 meters.
Although scientific consensus has not yet been reached, it is believed that some animals developed their elongated necks due to biological evolution, adaptation, and reaching for food at higher elevations in their natural habitats.
Currently, no animal has a longer neck than giraffes, which have necks that can reach up to 2.4 meters in length. They're also the tallest mammal in the world!
List of Sources
Altizio, B. A., Westendorf, M. L. (2004). Llamas and Alpacas. Rutgers Cooperative Research & Extension.
Greater Rhea: Rhea Americana. City of Idaho Falls.
Jabiru mycteria. Lamar University.
Alpaca. Smithsonian's National Zoo & Conservation Biology Institute.
Moolchan, E. (2011). Eudocimus ruber (Scarlet Ibis). The University of the West Indies.